Application for Merchant Account & Online Credit Card Processing
Whether you want to integrate real-time credit card processing or manually collect credit card information from your website, Authrize.net, in conjunction with CBSinet, can help you integrate your E-Commerce Solution.
As part of our partnership with Authorize.net, a leader in providing customers with pre-approved, turnkey electronic commerce solutions that interface with customer's new and existing websites, they can assist you in obtaining a merchant account and we will provide the resources to fully integrate this solution to your website.
Overall, Authorize.net get your Merchant Account setup and provide a safe and easy way for customers to place orders from your website through the integration of secure gateway for credit card processing.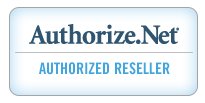 Sign up for a Merchant Account today through Authorize.net. A merchant account allows your business to accept credit card Payments!
Complete and submit your application online in just minutes!
The Authorize.net Online Application is simple to use
Help assistance is provided for every item requested